On Monday 27 August, PROJPRZEM MAKRUM S.A. will publish consolidated and separate financial results for the first half of 2018. Two days after the publication, we invite you to a meeting with the President of the Board, Piotr Szczeblewski, who will discuss the company's results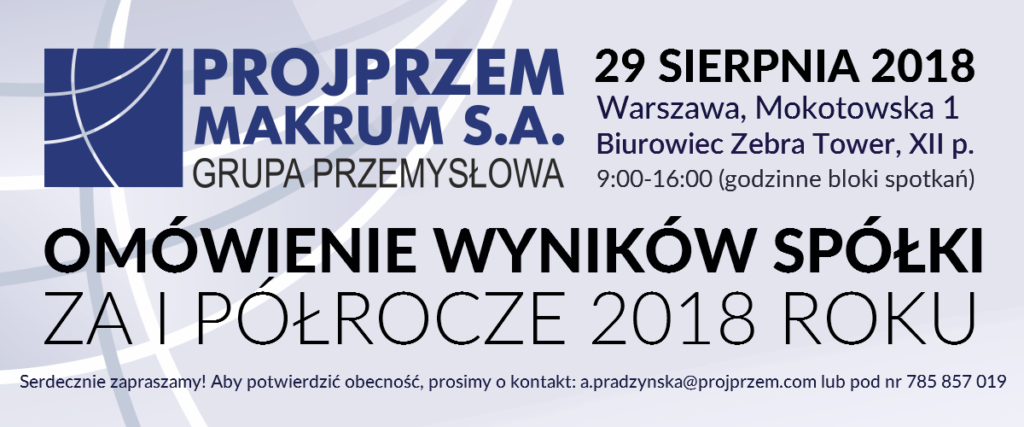 The result meetings with Piotr Szczeblewski, President of PROJPRZEM MAKRUM S.A., will take place on Wednesday, 29 August 2018, every hour between 9:00 and 16:00. If you wish to participate, please inform us by e-mail or telephone about the preferred time of the meeting. Meetings can take place in small groups – if you want to meet one-on-one, please also let us know.
Venue: Warszawa / Zebra Tower / Mokotowska 1 / XII floor – conference room 'Zarządowa'.
Contact:
mail: a.pradzynska@projprzem.com
tel: 785 857 019

PROJPRZEM MAKRUM S.A. the Industrial Group is a dynamically growing company, present on the international market, in almost 40 countries and four continents. The company operates in following segments: docking solutions, heavy machines, parking systems and general contracting. A distinguishing feature of the company, creating its competitiveness, is the synergy of the above segments for more complete and more effective meeting of market needs.