"Asphalt rubble in road construction" – this was the topic of a seminar organized in Łódź by the Polish Road Congress with a collaboration of the General Directorate for National Roads and Motorways. Representatives of MAKRUM were one of the guests and speakers during the seminar.
Although asphalt rubble is qualified as waste, it can be reused in mineral and asphalt mixtures after processing. Its application is not only environment-friendly, but also cost-efficient. Such questions as in what proportions, on which layers and on which categories of roads the rubble should be used were discussed during the seminar. The meeting schedule included such topics as experiences in applying asphalt rubble on A and S-class roads, possibility of applying asphalt rubble on the basis of Polish and German regulations and experiences as well as asphalt rubble management at the GDNRM Branch in Łódź.
During the seminar we had a chance to talk about our experiences with asphalt rubble and present the history of the MAKRUM brand: from repairing agricultural machines to the creation of the GDA asphalt rubble granulator. Participation in this event turned out special for MAKRUM – the organizers prepared a surprise, granting MAKRUM a special award for the brand's 150th anniversary.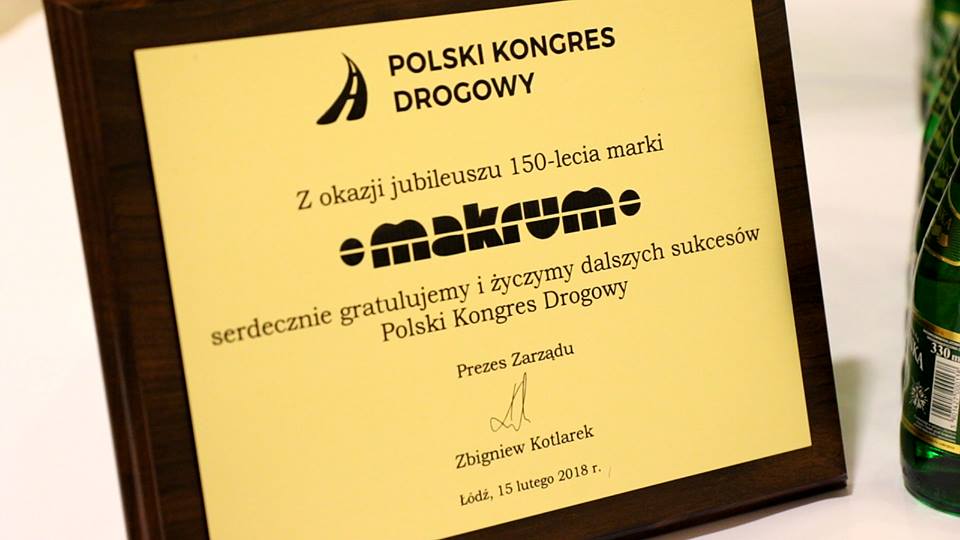 The issue of reusing rubble reverberated among MAKRUM specialists already two years ago, when after receiving calls from clients the work on the first Polish asphalt rubble granulator began. The machine is a response both to the needs of the industry and the natural environment. Recycling is applied in numerous areas of our lives and is becoming more and more popular in road construction too. Wishing to popularize the application of rubble and explain technical and legal complexities, at the beginning of the year we took part in issuing an "Asphalt Rubble Handbook" prepared by distinguished professionals: Stanisław Styk and Ireneusz Strugała.
The mass of acquired asphalt rubble is growing and will continue to grow insofar as the scope of investments consisting in adapting the existing roads to higher class parameters and increasing load bearing increases.