The merger of the companies belonging to the PJP Makrum S.A. Industrial Group was finalized. Modulo Parking Sp. z o.o. and Promlift Sp. z o.o. were merged with PromStahl Polska Sp. z o.o. This merger is to improve the organizational functioning of companies and simplify the management of shared services, without affecting the operational activities of individual brands.


According to the merger plan of April 26, 2021, agreed between Promstahl, Promlift and Modulo, the merger process was closed at the beginning of August. It was carried out by transferring all the assets of the acquired companies, i.e. Promlift and Modulo, to the acquiring company, i.e. Promstahl.
The described process simplified the organizational structure of the PJP Makrum Group and created one strong trade organization – PromStahl, which will gather the following product lines: loading systems, parking systems, warehouse equipment and new lines that may be added to the organization in the future, e.g. through acquisition processes. The merger will in no way limit the potential of the Modulo and Promlift brands – on the contrary, they will benefit from the potential and experience of Promstahl.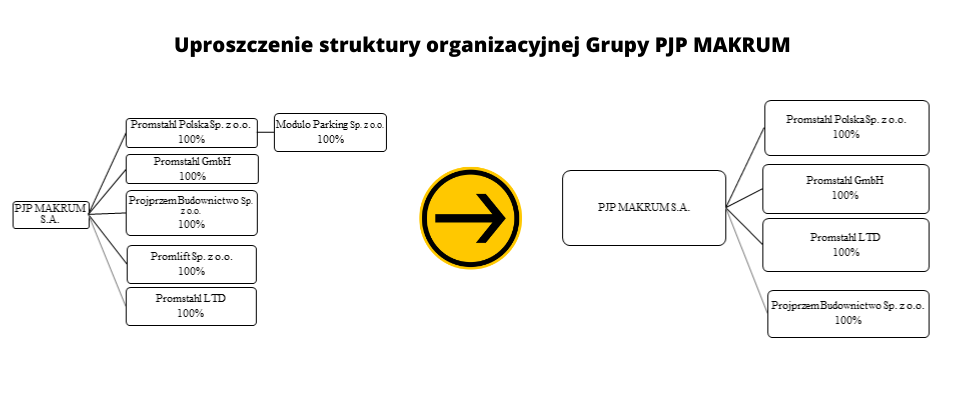 This model of operation will also be introduced in other Group companies operating abroad – PromStahl Gmbh with its seat in Germany and PromStahl Ltd with its seat in Great Britain. This will allow for faster expansion of Modulo parking systems and Promlift products, following the example of the main export product of the Group – loading systems.
In addition, the goal behind the change was to centralize selected processes at the level of PJP Makrum S.A., e.g. purchasing processes for the entire Industrial Group, including the creation of a central warehouse and optimization of management principles at the level of individual companies and the entire Group. The expected results of the merger include:
– increased importance of the trade organization after the merger;
– use of existing sales channels for all existing and new products;
– synergies on the side of settlements and possible credit / guarantee processes;
– the use of a common implementation and service policy for all products;
– optimization of production management of many assortments within one organization;
– employment optimization and
– consistency of marketing activities for all production directions and a uniform image.