Lately, one might "find" MAKRUM not only on seminars and conferences, but also in industry press. In the last two issues of important machine industry magazines– "Infrastruktura" [Infrastructure] and "Surowce i maszyny budowlane" [Resources and construction machines], two articles and interviews describing MAKRUM traditions and products have been published.
The 100th issue of "INSFRASTRUKTURA" contains an interview with Jan Borodo – a proxy of the PROJPRZEM MAKRUM S.A. Grupa Przemysłowa [Industrial Group] and Jacek Korzeniowski – Director of the Construction Department. In addition to questions about most recent projects, also inquiries concerning the brand itself have appeared. For example what is the biggest advantage of the brand.
Jan Borodo, who has been connected with the MAKRUM brand for many years, talked about its greatest strength: "Above all, people: designers, constructors, managers, production employees – strong, experienced and motivated team, which takes care of developing our offer and is not afraid of new challenges. Importantly, often university graduates who recently completed their education join our team. We also employ around 20 people with 40 years of work experience". Jacek Korzeniowski adds that: "Some of our employees remember even drawing tables, on which machines were designed back in the 1970s. Today, constructors have sometimes even 3 computer monitors, and we design everything in 3D technology".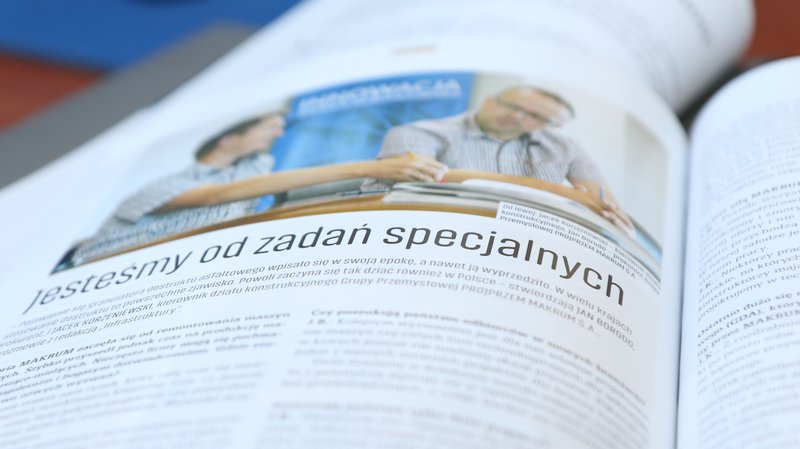 However, the "Surowce i maszyny budowlane" magazine contains an article discussing the matter of co-operation in contemporary machine production:
"We encounter a wide diversity of customer's needs," says the Main Designer of MAKRUM, Dariusz Modrzyński. "Fortunately, technological novelties and specialists from various fields, e.g. programming or hydraulic systems, are there to assist us. Thanks to them, what until recently could only be a dream or required huge amount of time and resources is now becoming common. It is enough to look closer at a popular "15" jaw crusher. While it did fulfil its role well, its control was practically limited to "turn on" and "turn off" options. The most recent MAKRUM jaw crusher is not only more effective, but also enables full control of the process, dynamic change of granulation, measurement of the pendulum's load, propulsion and filling level of the chamber. "What is interesting, it reminds us about necessary maintenance activities itself," adds the designer.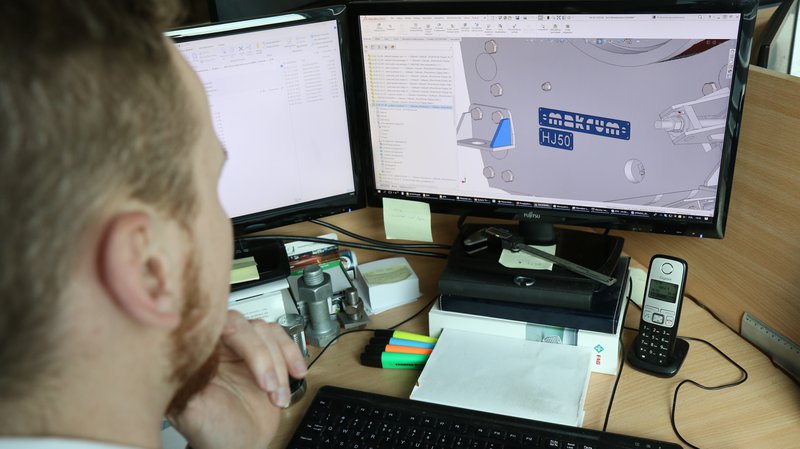 What kind of possibilities does such a co-operation of specialists from various fields actually offer? "Thanks to co-operation with foundries willing to undertake challenges, we test new alloy additives prepared especially for our narrow, but very demanding field," says Dariusz Modrzyński. "Thanks to this, we never use the same Hadfield steel, but we select it individually: depending on characteristics of crushing and material crushed. For jaw and cone crushes, we have several alloys of different resistance to crushing, and we have alloys resistant to very abrasive materials of different degree of vulnerability for impact crushers.
To read the full versions of these texts, we encourage you to obtain the "Infrastruktura" and "Surowce i maszyny budowlane" magazines.