We present one of the successive implementations of the loading systems segment of the PJP Makrum Group. This is a project carried out in the Pomeranian Voivodeship for a client from the bakery / confectionery industry.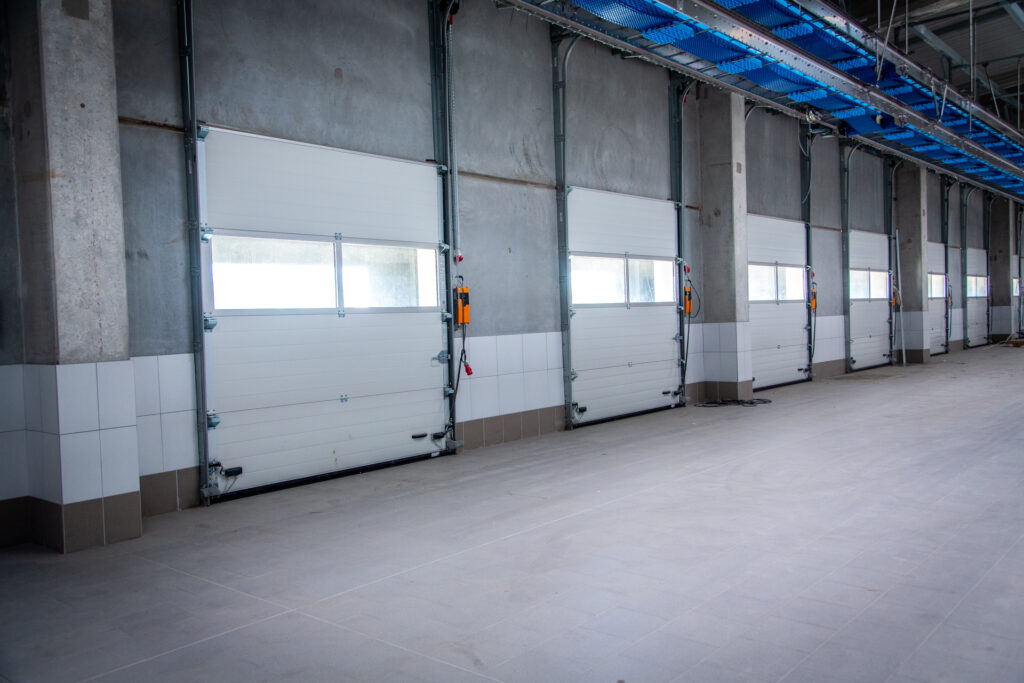 One of the numerous implementations of the Promstahl brand took place in Kłanino next to Karwia, in a modern hall of the Konkol bakery and confectionery. In this modern facility, most of the production process has been automated, including the integrated loading system provided by Promstahl. As part of it, 3 PS ramps were installed, mainly for unloading goods from trucks, and 26 docks adapted to smaller vans that will deliver goods. The system includes a KBS manual bridge and a PMV sealing curtain with an enlarged top sheet to seal a smaller car.
There are also 26 external dock gates installed in the hall with an elevated track running at an angle of 6 degrees (parallel to the roof). There were 39 external gates in total, including the dock gates. As for internal doors, in order to speed up the production process and keep the temperature in individual rooms, sectional doors with a high-speed drive were used.
In the segment of loading systems of the PJP Makrum Group, in the first quarter of 2021, revenues increased by PLN 6.0 million (21%). Products of this segment are directed mainly to export markets – in the first quarter, foreign sales accounted for as much as 85.2% of the total. Sales to the main sales market – the German market, increased by PLN 0.3 million, i.e. by 2.8% (to the level of PLN 12.3 million), while on the French market by PLN 1.6 million, i.e. 27.7% (up to the level of PLN 7.2 million). A significant increase in the value of sales by PLN 1.4 million, i.e. 39.3% (to the level of PLN 5.1 million) was also recorded on the domestic market
"In the following months of 2021, due to the unprecedented number of production orders, the Group expects a significant acceleration in the rate of revenue growth in this segment" – said President Piotr Szczeblewski after the publication of Q1 results.